Berita
BaKTI Highlights July-August 2013
»
BaKTI Highlights July-August 2013
, 13 September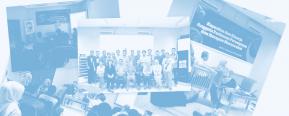 The last two months were quiet as Indonesia celebrated Ramadan and Eid. However, some activities were ongoing, both in the BaKTI office in Makassar and in other provinces. We have a big upcoming event that we hope to see you at in December, our Eastern Indonesia Forum event, Voice from the East: Kaya, Tangguh, Inspiratif in Jakarta! More information will be sent to you soon.
Events
During this period, BaKTI conducted one Inspirasi BaKTI event (a space for development actors to share and learn about development inspiration in eastern Indonesia event. There were also 10 other events held at BaKTI (facilitated by BaKTI and also by BaKTI's development partners) during this period. Total number of participants in events at BaKTI for this period was 161 persons.
The events included:
23 August 2013 Inspirasi BaKTI : Smart Practices from JICA PRIMA Kesehatan Phase 2
In this Inspirasi BaKTI event, BaKTI, in collaboration with JICA PRIMA Kesehatan, conducted a discussion on ''Improving Public Health by the Community and Government by Optimizing Existing Resources'', which took place in BaKTI's meeting room. In this event, Bapak Musran A. Muchsin from Badan Pemberdayaan Masyarakat Pemerintah Desa dan Kelurahan, South Sulawesi Province, and dr.Abdul Asis, the Head of the Health Office from Wajo District, shared their experiences of program implementation and its impact on the community. In the presentation both resource persons explained approaches used, parties involved, budgeting issues, and expansion of the locations of the program. JICA is currently in a discussion process with Provincial Government on the further expansion of this program. In this event, district representatives from Bone and Pangkep expressed their great enthusiasm in adopting this program by immediately planning a field visit to Wajo district. Around 54 people attended the discussion ranging from representatives of government, international development partners, media and NGOs.
26 August 2013 UNICEF Media Dissemination event: "Engagement with Youth, Experience from Papua"
UNICEF Indonesia, in collaboration with BaKTI, conducted a UNICEF Media Dissemination event with the theme of "Engagement with Youth, Experience from Papua". In June 2013, a successful initiative on the development of a Provincial Youth Policy in Papua (the first of its kind for Indonesia), was launched by the Papua Provincial Government with support from UNICEF, after months of careful collation and generation of evidence, which included a comprehensive process of youth preparation. This was largely a result of the government and UNICEF's engagement with youth organizations and civil society to generate evidence on the conditions of youth in Papua and West Papua, including the challenges they presently face in their provinces. These findings formed the basis of an Advocacy Brief on the 'Need for Youth Policy in Papua'. Media representatives attended this event from TV, radio and also newspapers from Makassar, as did BaKTI and UNICEF staff members.
29 August 2013 Training for strengthening the proposal quality of the candidates for PNPM Creative Communities grant
Yayasan Kelola conducted training for strengthening the proposal quality of the South Sulawesi's candidates of PNPM Creative Communities at BaKTI. This training aimed to strengthen the candidates' proposals in the next stage of the selection process for a second grant with a total amount less than 80 million rupiah. Andi Indra, the Provincial Coordinator for PNPM Rural South Sulawesi, was the resource person in this training and Luna Vidya and Ashry Sallatu were the facilitators.
BaKTI provided support to 25 client requests from July to August 2013 including:
Request from Critical Ecosystem Partnership Fund (CEPF) to support a workshop on the Ecosystem Profile of Wallacea area to be conducted in Makassar

Request from the AusAID HIV Team for BaKTI to facilitate a meeting with international development partners in Makassar

Request from BAPPEDA Gorontalo province to provide an invitation list for a meeting with International Development Partners, Business Actors and Local Government in Jakarta (facilitated by UNDP)

Request from USAID Kinerja to recommend a film production house
If you have a query (e.g. request for contact person or document) or an event or program that needs our support services, please email info@bakti.or.id
BaKTI Library, also called our Gallery of Knowledge, to reflect its multimedia contents, contains information from development partners in eastern Indonesia and also provides several desktops for use by visitors in accessing information and knowledge e.g. online journals and scholarship information. Currently the Gallery has 3,112 publications and during the period of July and August received donations of 98 new books. As usual, students, NGO activists and researchers are the main visitors of the Gallery and they utilize publications for completing their papers and research.
During July - August 2013, there were 417 visitors to BaKTI, consisting of 352 men and 65 women. Of these, 381 were users of the library/study centre and 36 came to access the internet service.
"I am a post graduate student at UMI majoring in Agriculture. I came to visit BaKTI's Library to access the books and internet, especially the Agriculture section. The Agriculture section in BaKTI's Library is quite complete. I used these books to write my papers and complete other assignments from my lecturers." (Hamdan-Post Graduate Student in UMI and NGO staff)



If you have any publication material able to support BaKTI in improving knowledge exchange in the region that you wish to display in our library, please send to us at following address:
Yayasan BaKTI
Jl. H.A.Mappanyukki No.32, Makassar 90125
Phone: + 62 411 832228/833383
Contact Person: Sumarni (Librarian)
Total number of Sahabat BaKTI (local Makassar-based members) is 1,244 members, consisting of 777 men and 467 women. The members come from several backgrounds such as Academic/University students, NGO, Media, Government, Private Sector and others. A mailing list of Sahabat BaKTI is very active to encourage information sharing among members.
Smart Practices Update
Wa Ode Sabaria from the Women's Cooperative in Poogolampa Village, Buton, one of the smart practices promoted in the Eastern Indonesia Forum, appeared on Tupperware She Can, a TV show designed to capture stories of ordinary women with extraordinary efforts, on Trans 7 TV (August 3, 2013). Ibu Murniati Duddin, an inspirator from a Eastern Indonesia Forum Regional Discussion was also selected by Tupperware and appeared on Trans 7 TV (20 July 2013). The Tupperware She Can crew got the information from BaKTI's Youtube and expressed great appreciation of BaKTI's efforts in promoting smart practices.
The Eastern Indonesia Forum at provincial level (Regional Eastern Indonesia Forum) held several smart practice sharing events including:
North Sulawesi (July 2013) Mapalus Pembuatan Rumah

West Papua (July 2013) Coral transplantation techniques at Lemon Island, Manokwari

North Sulawesi (August 2013) Sharing Responsibilities in Family Planning with Vasectomies, Minahasa Utara.
BaKTINews is knowledge exchange media about development issues in eastern Indonesia. BaKTINews promotes development smart practices from regions in eastern Indonesia so they can be more widely known and provide inspiration for stakeholders and their efforts to overcome development challenges. Over 50% of content each month is submitted by the readers of BaKTINews. To submit articles, please email baktinews@bakti.or.id.
Articles in the current edition include:
Indonesia: Sebuah Kajian Awal Geopolitik

PLTA dan Transportasi Laut

Peluncuran Penyusunan Profil Ekosistem Wallacea

Memodifikasi Arisan Mebel Menjadi Arisan Jamban

PALU Zero Proverty Pencapaian MDGs 2015

Asmara Digital Teknologi Untuk Menyuarakan Aspirasi Perempuan

Dari Kamerun ke Sulawesi Barat: Mencari titik terang

Jelajah Hutan Kemasyarakatan di Bangkeng Buki'

Pembangunan Infrastruktur Untuk Menjaga Momentum Dan Mendorong

Pertumbuhan Ekonomi Pulau Sulawesi
This edition can be downloaded at: http://www.bakti.or.id/en/bakti-news/edition-91-july-2013-august-2013
Batukarinfo.com, BaKTI's online knowledge sharing portal, is still experiencing stability issues. We are working hard to find a solution. In the meantime, please keep up to date with the latest in development news on BaKTI's Twitter, BaKTI's Facebook and our mailing lists.
Programs Managed by BaKTI:
Knowledge Management component of the Australian Indonesia Partnership for Decentralisation (AIPD) Program (AusAID)
BaKTI is currently an implementing partner for the Knowledge Management component of the Australian Indonesia Partnership for Decentralisation (AIPD) program. The program is active in 5 provinces (NTT, NTB, Papua, Papua Barat and Jawa Timur) and the current focus has shifted from Needs and Readiness Assessments to begging to set up regional resource centers and facilitate donor harmonization networks in each province. BaKTI will coordinate the establishment of the centers using their experience of supporting knowledge management in eastern Indonesia. The centers will be provincial and district versions of the BaKTI facility in Makassar. For a full list of events and updates for each knowledge product, please visit the new website kmaipd.bakti.or.id
Barefoot Engineer Training III (World Bank)
During the months of July to August, the BE III program is focusing on mentoring process that started in the last week of June. 9 instructors are assigned to the seven regions within Papua and West Papua provinces as mentors and at the same time to assess the needs of the refresher training that is planned for January-February 2014. Activities related to the mentoring include On The Job Training) and In Service Training, adjusted to the ongoing work that is now managed by the alumni of BE III and also alumni of BE I and II.
Kinerja Papua Program (USAID)
For the period of July to August, only one activity was held, the third PMC coordination meeting. Other activities that still in process include analysis of smart practices and policy recommendations, and also film documentation of two initiatives from Kabupaten Jayawijaya and Kabupaten Mimika.
Although the PMC coordination meeting was the third meeting of Kinerja's Papua Health Sector Working Group, this meeting was the first meeting held under the new Papua Government under Lukas Enembe. The meeting briefed new staff on Papua's strategy for the next five years with a strategic clusters approach, as stated by Mohammad Musaad, Papua's Head of BAPPEDA. This particular approach will impact every program implemented in Papua, including Kinerja's. The participants look forward to developing a mechanism of information sharing, and as acknowledged by Thamrin, Kinerja Papua Program Manager, there is so much valuable information that should be documented by Kinerja.
There will be two smart practice documentaries produced for Kinerja. From Kabupaten Mimika the it will focus on the partnership established between government and NGOs to provide health services under the PT. Freeport CSR fund. The model of partnership, the establishment, the impact and the quality of health service provides could be a model to be implemented in other parts of Papua, with other companies with CSR mandates.
Jayawijaya's smart practices documentary will cover Puskesmas Anugerah, as a case study on management and how the local human resource can gain such self-confidence to take part in managing a private clinic, how to identify health issues in the area, and take action with outside funding.
JiKTI (The Asia Foundation and AusAID)
A website for JiKTI Knowledge Sharing (http://jikti.bakti.or.id ) is currently being developed. The focus is on the Stock of Knowledge and also query responses from researchers. A Stock of Knowledge Workshop will be implemented by the end of September. JiKTI will also conduct aTraining of Policy Brief Formulation, conducted by the alumni of the same training in July. Currently, JiKTI is developing 7 policy briefs which become JiKTI publications. Those 7 policy briefs were the results of research conducted by JiKTI members awarded Research Grants by the JiKTI Bridging Program in 2012. JiKTI also focused on holding FGDs in each province, facilitated by each province's Focal Point. These FGDs aim to identify local issues of development to contribute to the formulation of a Provincial Matrix which as an input to Book II of the RPJMN, to be presented at the Head of BAPPEDA Forum in October 2013.
Upcoming Events at BaKTI
Strengthening the role and engagement with media in the development of Youth Policy and Programs: Sharing Experiences from Papua – UNICEF Indonesia in collaboration with BaKTI, Manokwari, 23 September 2013

Eastern Indonesia Provincial Heads of BAPPEDA Forum Workshop: Integration of Strategic Issues of Eastern Indonesia Development into RPJMN 2015-2019 Background Study

, October 2013 – Jayapura.

Promotion and dissemination of Waiting Houses Initiatives (a smart practice from 2012 Eastern Indonesia Forum)

, November 2013- Manado

Eastern Indonesia Forum, Voice from the East: Kaya, Tangguh, Inspiratif,

December 2013- Jakarta
Upcoming Events in Eastern Indonesia:
Sail Komodo 2013, Labuan Bajo - East Nusa Tenggara, September 7-15th, 2013

Ambon Bay Festival, Ambon - Maluku, September 11th - 14th 2013

Makassar SEAscreen (South East Asian Screen) Academy, Indonesian Regional Cinema-

Menuju Film (Daerah) Indonesia, Makassar, October 4th-8th 2013
Ambon International Film Festival (AIFFEST), Ambon - Maluku Sept 21st - Oct 30th, 2013

National Symposium of Accounting XVI: Theme Towards a Qualified Financial Management, Transparent, and Accountable, Manado - North Sulawesi, September 25-28th 2013.

Raja Ampat Festival 2013, Raja Ampat - West Papua, October 18th-21st 2013

National Conference of Ecology Change, Kupang – NTT, 14-15 October 2013, more information:

irgsc

-

conference@irgsc.org

International Symposium of Sago, Manokwari - West Papua, November 5th - 8th 2013